About Dr. Chopra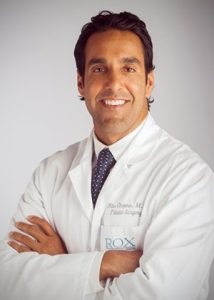 Dr. Ritu Chopra is a dedicated Board Certified Plastic and Reconstructive surgeon providing the most up to date body contouring procedures for his patients. For over a decade Dr Chopra had been the go-to plastic surgeon in Beverly Hills, Rancho Mirage, and San Diego. He is a member of the prestigious plastic surgery organizations ASPS, ASAPS, and the LA surgical Society. He is regularly recognized as a Top Doctor through vitals, health grades, real self, and new beauty. He also serves as plastic surgery correspondent for the hit TV show the Doctors for several years. Additionally, he serves as one the directors of the USC Keck Aesthetic surgery fellowship, training up and coming plastic surgeons.
Born and raised in Southern California, Dr. Chopra received his undergraduate education at the University of California at Irvine. After graduating with an Engineering degree Dr. Chopra followed his heart and focused his attention towards medicine.
He received a Master in Medical Sciences followed by his Medical Degree from the prestigious Boston University School of Medicine. Dr, Chopra received many accolades during his Medical School career including the Alpha Omega Alpha award given to the top 10% of medical students followed by the award for the top surgical student in 1999.
After graduating Cum laude from Boston University School of Medicine, Dr. Chopra returned home to Los Angeles to complete a six-year general surgery residency at the world famous Cedars Sinai Medical Center in Beverly Hills. Again Dr. Chopra excelled and was named Chief administrative Resident for the 2005-2006 academic year followed by being named the most outstanding resident of 2006. Additionally, Dr. Chopra authored and co-authored several peer reviewed publications in all aspects of surgery from minimally invasive surgery to stem cell research.
Combining the methodical aspects of his engineering education with his intensive training in general surgery, Dr. Chopra decided to pursue additional expertise in Plastic and Reconstructive surgery. Dr. Chopra was accepted into one of the oldest and acclaimed programs in the country at the Albert Einstein School of medicine in New York. This plastic surgery fellowship provided Dr. Chopra with extensive experience in complex aesthetic and reconstructive surgery of the entire body. During his time in NYC Dr. Chopra has learned from the most preeminent surgeons in the country teaching the most advanced and cutting edge approaches to plastic surgery.
Due to his immense training and experience, Dr. Chopra is widely accepted as an expert in body procedures. He strives to make each and every persons surgical goal come true and is always a patient advocate.
During his free time Dr Chopra enjoys surfing, golfing working out and being with his family