Having Trouble Breathing? Septoplasty May Be Your Answer.
By: RoyDavid January 20, 2016
Unobstructed Nasal Passages Make Breathing Easy and Natural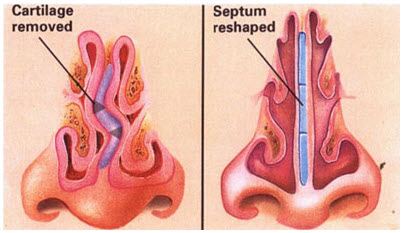 Septoplasty or Deviated Septum Surgery is a term for the surgery that must be performed to correct a deviated septum in the nose, and this surgery is performed to help relieve nasal obstruction. The septum and turbinate are both components of the nose, and either can become obstructions to good breathing, and either may necessitate septoplasty surgery.
The nasal septum is comprised of cartilage and bone, and it is the structure which divides nasal passages into their right and left sides; when the septum becomes deviated, either or both sides of the nose can become blocked. Turbinates are located inside the nose near the septum, and can also cause obstruction if they grow too large. When either of these two nasal structures are not sized or positioned correctly, it can force a person to breathe through the mouth, since normal nasal breathing is compromised.
Recovery and benefits of septoplasty
After a doctor determines the cause of a deviated septum, septoplasty may be the best option to correct the problem, and the surgery should help to straighten out the cartilage and bone which are out of place. The procedure typically is performed on an out-patient basis by a qualified plastic surgeon or ear nose and throat surgeon, although general anesthesia is usually recommended because of the nature of the surgery.
Following the surgery, packing or splints inside the nose may be necessary to promote the healing process, but in other cases only dissolving stitches are required. During the post-operative period, a patient may experience pain, stiffness, or drainage for a period of time.
With successful septoplasty or turbinate surgery, the obstruction of nasal passages is largely relieved, and patients are able to breathe normally again, without having to resort to breathing through the mouth. Many patients also sleep much better at night and are thus better rested for the next day, since obstructed breathing frequently interferes with night-time breathing and sleep.
There is also a cosmetic benefit to correcting a deviated septum, you may want to find a good rhinoplasty surgeon that can correct the deviated septum and provide nose shaping at the same time . In many cases, a deviated septum is externally visible and gives the patient a 'crooked' look around the nose. Following the surgical procedure, this is corrected and the nose appears straight again, since the underlying bone and cartilage have been re-positioned into their normal places.
About Dr. Roy David
Dr. Roy David is a facial plastic surgeon specializing in surgery for the face, nose, eyes, neck, and scalp, and has provided top-quality plastic surgery in the San Diego for more than 10 years. He is a member of the American Academy of Facial Plastic and Reconstructive Surgery, and is double board-certified by both that organization and the American Board of Otolaryngology – Head and Neck Surgery. He considers the intricacies of plastic surgery akin to art, and strives to achieve perfection with all patients seeking his services.
« Why You Should Choose a Plastic Surgeon Who Understands Asian Rhinoplasty | Do Your Homework Before Choosing a Rhinoplasty Surgeon »
Categories: Rhinoplasty Uncategorized
Non-Surgical Facial Rejuvenation Making a Real Splash this Summer!
By: RoyDavid August 10, 2015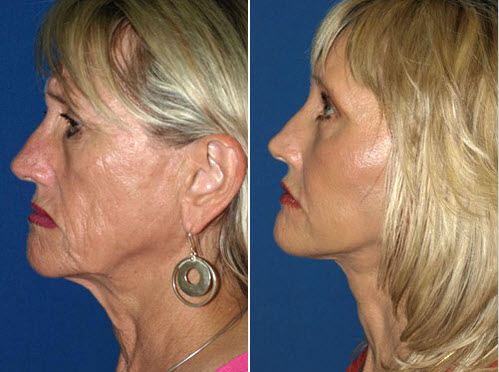 San Diego Facial Plastic Surgeon Dr. Roy David says non-surgical procedures making a real splash this summer.  Dr. David offers the liquid facelift as an alternative to surgery with fantastic results.  Facial Fillers have really become popular over the past couple of years as the injectables have really improved dramatically given long-lasting results without going under the knife.  The injectables today can soften and plump wrinkles or expression lines to create smooth flattering contours.
If you are simply looking to turn back the hands of time or just looking to freshen your look for a wedding, this procedure may be right for you.  Dr. David offers a number of facial fillers at his San Diego Medspa including Voluma™, which is made by Allergan. Voluma is a game changer as far as fillers are concerned.  Voluma is FDA approved and lasts up to two years, and is one of the most sought after facial rejuvenation procedures available today.
Dr. Roy David goes on to say, "at our San Diego Medspa we've spared no expense with offering the latest in non-surgical facial rejuvenation procedures.  The Liquid Facelift has become very popular as it has been widely shown on main-stream TV as a great alternative to surgery".  Dr. David offers a number of different facial fillers including minimally invasive facial fat transfer.  No one filler is right for everyone, each case is different and may require a different product or technique.
In addition to our facial rejuvenation line-up we now offer CoolSculpting, which simply freezes the fat and will soon be offered for reducing fat in the neck.  Dr. David goes on to say, "we are also offering CoolSculpting for the body with fantastic results, so from head to toe we can provide you with a great new look, without going under the knife".
Dr. David reports that another popular procedure he recommends to people looking to freshen their look is laser skin resurfacing.  Dr David says "the results from The Active FX are truly amazing, a real game changer, this procedure improves facial appearance by targeting the more superficial layers of the skin.  The lasers work by removing the outer layer of skin which includes the thickened and dead skin layers.  The laser light causes restructuring of collagen in the dermis or deeper layer of the skin.  It works great for eliminating scars from acne and other skin pockets and lines in the skin".
San Diego facial plastic surgeon Dr. Roy David is a member of the American Academy of Facial Plastic and Reconstructive Surgery, and specializes in plastic surgery exclusively of the Face, Nose, Eyes, Neck, and Scalp. He has been in practice in San Diego for over ten years, helping thousands of patients achieve their aesthetic goals.
« Coolsculpting Now Offered in San Diego | Dr. Roy David Discusses the One Hour Eyelift »
Categories: facial rejuvenation Uncategorized
Coolsculpting Now Offered in San Diego
By: RoyDavid May 26, 2015
Roy David MD, Cosmetic Surgery & Medical Spa introduces CoolSculpting Fat Reduction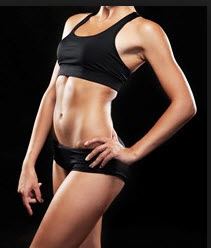 Noninvasive fat reduction has become more and more popular in San Diego as the technology continues to improve and more and more men and women seek to flatten out their bellies and eliminate love handles. Traditional liposuction is effective, but involves significant pain and swelling, and is not without complications. CoolSculpting or cryolipolysis from Zeltiq eliminates downtime and has virtually no risk. What's more- the results are measurable and significant.
"CoolSculpting in our San Diego practice can take from one to four or more hours, depending on the number of areas being treated," explains Dr. Roy David, medical director of Roy David MD, Cosmetic Surgery & Medical Spa medical spa. "A typical lower abdomen is two areas, but some patients also require sculpting of the upper abs and flanks." The Center offers a relaxing "CoolSculpting Room" with a large screen television and comfortable recliner. Clients are served light snacks and beverages, and are free to use their cellphones or iPad.
The treatment begins with one of the expert staff members marking out the treatment site and applying a cool gel pad the skin. Patients feel a sucking sensation on their skin as the device attaches the skin surface and then gradually cools the skin and underlying fat. "Fat cells are more sensitive to cold than our skin, so the fat cells will be destroyed without harming the skin," explains Dr. David. In addition to the abdomen and flanks, CoolSculpting is also popular for reducing fat in the inner and outer thighs.
Following a session of fat reduction with CoolSculpting in San Diego, patients may experience some numbness or tingling in the area that resolves over one to three weeks; however, they may return immediately to their normal activities. As the fat cells are destroyed and cleared through the blood stream, final results become apparent over three to twelve weeks.  Roy David MD, Cosmetic Surgery & Medical Spa medical spa also offers radiofrequency fat reduction with Vanquish and Exilis, but he and his staff feel that CoolSculpting adds the benefits of localized fat reduction and a one-time treatment.
Roy David MD, Cosmetic Surgery & Medical Spa is a full service medical spa in the UTC area serving all of San Diego. Medical director Dr. Roy David is a double board certified Facial Plastic and Reconstructive Surgeon.
3252 Holiday Court, Ste. 206
La Jolla, CA 92037
(858) 658-0990
« Introducing the Latest Advancement in Skin Rejuvenation | Non-Surgical Facial Rejuvenation Making a Real Splash this Summer! »
Categories: Uncategorized
Spring Skincare Recommendations
By: RoyDavid March 24, 2015
Skin Care Tips For Spring
As we say goodbye to winter it is time to start to think about warmer weather skincare. It is important to change your skincare regimen.
In Southern California we are already experiencing summer like conditions, as the weather gets warmer your skincare products should get lighter. Many of us moisturize daily which is great, as the weather warms up switch out that heavier moisturizer for a lighter one. Many of our clients have sensitive skin issues, this is the perfect time of year to have a skin peel done and start exfoliating regularly. Sensitive skin is less affected in the Spring time conditions.
Start introducing exfoliation to your weekly routine, exfoliate at least a couple times per week. This will help remove dead skin cells and allow the healthy ones to shine through. Use a gentle exfoliator every couple of days followed by moisturizer.
How Often Should I Moisturize?
For best results try and moisturize first thing in the morning right after showering, this will help lock in moisture and keep your skin hydrated. Prior to bed moisturize again your skin will thank you in the morning.
When Should I Use Sunscreen?
Daily use of sunscreen is a must, it will help protect your skin from harmful UV rays but also prevent premature aging. You should apply a daily sunscreen every morning after your moisturizing routine. Look for a light weight non-greasy formula for the best protection and make sure to cover your neck and ears!
If you would like to get your skin looking great this Spring visit our medspa today!
« Is A Spa or Medspa Right for You? | More Men Opting for Liquid Facelift »
Categories: Uncategorized
Is A Spa or Medspa Right for You?
By: RoyDavid March 19, 2015
A traditional spa is geared toward making you look and feel better for a few hours, a day, or the duration of a manicure. In many cases you are paying for the experience of the treatment and not necessarily any long term result. In contrast, a medical spa is focused on treatments that provide longer term anti-aging and body contouring results.
Dr Roy David San Diego Facial Plastic Surgeon
We all know what a spa is- after all we visit them at high end hotels while on vacation or buy our spouses relaxation packages for their birthday. A spa is typically a relaxing environment where one luxuriates in massages, pampering facials, nail treatments, and body wraps. A spa is a place you go to look and feel good. So how is this different from a "medical spa?"
A traditional spa is geared toward making you look and feel better for a few hours, a day, or the duration of a manicure. In many cases you are paying for the experience of the treatment and not necessarily any long term result. In contrast, a medical spa is focused on treatments that provide longer term anti-aging and body contouring results. Medical spas can be considered a middle ground between traditional spas and cosmetic surgical procedures such as facelifts and liposuction.
A typical medical spa will employ estheticians or nurses who provide medical grade facials. These facials go beyond skin massage and moisturization to include services like microdermabrasion, microneedling and medium grade chemical peels. Microdermabrasion achieves long term skin health by penetrating the skin to stimulate collagen production which leads to tightening and improved texture. Chemical peels with a downtime of one to four days provide significant exfoliation, improving or erasing brown spots and allowing skin care products to more effectively. By law, medical spas must be under the supervision of a physician, and are therefore able to dispense medical grade skin care products.
Retin- A or tretinoin is a form of vitamin A and is the only skin treatment product that has been scientifically proven- without a doubt-to improve skin appearance and health. However, Retin A is a prescription strength product that you will not find on department store shelves or at a typical spa. What you will find is dozens if not hundreds of lotions containing enticing ingredients such as growth factors, stem cells, hyaluronic acid, and various extracts. In many cases these products may be no more effective than a basic moisturizer- and no more long lasting. A qualified medical esthetician in a supervised medical spa can start her clients on a supervised Retin- A treatment plan that can form the foundation of any skin care routine.
In addition to advanced skin care, medical spas generally provide injectable fillers and wrinkle relaxers such as Botox, Xeomin, and Dysport. These services are provided by the supervising doctor or by specially trained nurses under the doctor's supervision. Injectable fillers are too numerous to completely name but include staples such Restylane and Juvederm and more recent additions such as the long lasting Voluma. These work by replacing lost volume in the face: a main culprit in aging that leads to hollowness and loose skin. In the right patient, proper use of fillers can sometimes give a better result than an actual facelift, and choosing the right medical spa is critical to a great result. Results from fillers can last one to two years or longer. Wrinkle relaxers such as Botox prevent the habitual formation of creases and lines in our forehead and around the eyes, possibly leading to less lasting lines as we age.
Most medical spas are also "laser spas" in that various light and sound based devices have revolutionized the skin care and anti-aging industries. Laser hair removal has become the treatment of choice for lastingly smooth skin and can be remarkably quick and painless with modern devices such as the Lightsheer Duet. Radiofrequency devices such as Exilis and Infini can tighten skin in the face and neck and improve acne scars. Fractional laser treatments such as Active FX eliminate brown spots, fine lines, and tighten skin. Ultrasound devices such as the revolutionary Ultherapy penetrate to the level of the SMAS (the layer that is tightened during a facelift) to lift the jowls and neck.
A more and more common aspect of modern medical spas is noninvasive body sculpting. Devices such as Exilis, Vanquish, and CoolSculpting destroy fat cells using heating or cooling without a need for liposuction or downtime. Love handles and tummy pooches can be flattened while watching a movie or checking your email.
So in summary, a medical spa is quite different from a typical resort spa. A physician must be charge to supervise the medical grade treatments and lasers involved, and clients should expect longer lasting or lasting results. Treatments may involve some amount of downtime or recovery and should be fully understood prior to beginning. Potential clients should seek reputable spas that are affiliated with physicians from one of the core specialties addressing cosmetic concerns: Facial Plastic Surgery, Plastic Surgery, and Dermatology.
Dr. Roy David is a double board certified Facial Plastic Surgeon in practice since 2003, and medical director for the Roy David MD, Cosmetic Surgery & Medical Spa medical spa.
« Septorhinoplasty | Spring Skincare Recommendations »
Categories: Uncategorized
Rhinoplasty Recovery
By: RoyDavid October 21, 2014
Rhinoplasty Recovery
Recovery from rhinoplasty surgery in San Diego is easier than most patients think. The nose is not a supportive structure in our body (it doesn't carry much body weight) and so if it's left alone after surgery it tends not to hurt too much.
After rhinoplasty, your nose will generally have a protective external splint. Occasionally, if your septum was very crooked, a semi-rigid internal splint may also be applied. This doesn't hurt, but may make your breathing a bit more stuffy. Other reasons for stuffy breathing include swelling inside the nose or accumulation of crusting.
Cold compresses are helpful for 2-3 days to decrease swelling, and pain pills are supplied but usually unnecessary after the first night or two. Severe discomfort after rhinoplasty would be very unusually and is reason to call your doctor's office for instructions.
« 3 Ways to Get Beach Body | Nose Shapes »
Categories: Uncategorized
3 Ways to Get Beach Body
By: scott May 20, 2014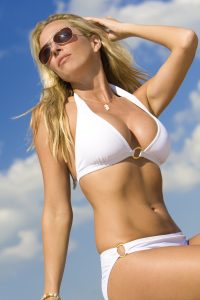 The official start of summer is in 31 days. For those with unwanted fat, loose skin and a sun-damaged face, that's not a lot of time to get beautified in time for bikini season. Luckily, there's some non-invasive short cuts you can take to get heads turning on the beach in a matter of weeks.
Dr. Roy David, double board certified plastic surgeon and founder of the Roy David MD, Cosmetic Surgery & Medical Spa, is sharing his top three picks for Non Invasive Ways To Get Summer Beach Body Ready.
Vanquish: Body Sculpting and shaping with Vanquish is looking like a game changer for non-invasive fat melting. This device harnesses radio frequency, but treats clients without contact and is completely pain free. Not only that, but it treats the entire "core" (upper and lower abdomen, flanks or love handles) in one 30 minute session.  Other devices on the market freeze fat cells (Zeltiq), but are limited by discomfort and treatment area. Patients lose 2-4 inches in only 6 weeks.
2. Ultherapy: Skin tightening and lifting with Ultherapy remains the only non-invasive FDA approved device for lifting skin in the face and neck. This device uses ultrasound technology to penetrate to the layer of the SMAS (Superficial muscular aponeurotic system) above our muscle (the same layer that is raised in a facelift operation!), tightening this layer to lift the cheeks, forehead, jaw line, and neck.
3. Micropen: Skin Resurfacing and smoothening: Bye bye deep chemical peels or deep laser treatments. The micropentakes microneedling to a new level. This device uses 12 fine needles to puncture the skin surface with virtually no discomfort.  Think of it as a microdermabrasion on steroids! Whereas traditional microdermabrasion is unable to improve fine lines and scars, the micropen achieves results that are close to a laser peel, but without the downtime. Clients are usually completely healed in one day. This pen actually opens temporary tracts through the skin so that hyaluronic acid and growth factors applied topically can penetrate to the dermis and stimulate collagen and skin renewal.
To find out more or book your appointment, contact the Roy David MD, Cosmetic Surgery & Medical Spa.
« Dr David Featured on Doctors TV Show! | Rhinoplasty Recovery »
Categories: Uncategorized
Dr David Featured on Doctors TV Show!
By: scott April 17, 2014
Dr. David's La Jolla Lift Featured on The Doctors TV Show!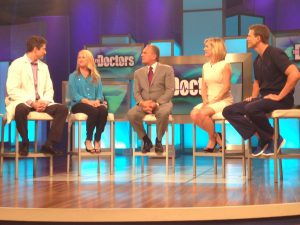 Looking for a lift this spring? Recently, Dr. David headed to the LA set of The Doctors to chat about his innovative mini-facelift procedure, The La Jolla Lift. The La Jolla Lift is ideal for men and women who are experiencing sagging in the lower half of their face, most commonly in the jawline, neck and cheek or jowl area. What's most unique about The La Jolla Lift, besides the incredible results, is there is no need for general anesthesia. Instead, twilight sedation is used. This ensures a speedier procedure and recovery time. Most patients are back to their everyday lives in a week!
The Doctors crew followed the journey of one of Dr. David's patients, Joan DePew. Joan, a 53-year-old real estate broker, was extremely unhappy with the lower half of her face. Specifically, her "turkey neck." It's important for Joan to look good in her line of work, plus she wanted her appearance to match how good she feels on the inside. Joan's experience was filmed from beginning to end, including the actual surgery done by Dr. David.
Here is a glimpse of Joan's before pictures, but make sure to tune in to The Doctors on CBS Friday, May 16th, to check out Joan's big reveal!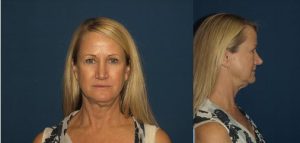 « Dr Roy David Featured in Union Tribune for Latest in Facial Rejuvenation | 3 Ways to Get Beach Body »
Categories: Uncategorized
Dr Roy David Featured in Union Tribune for Latest in Facial Rejuvenation
By: scott March 19, 2014
The plastic surgery facelift requiring general anesthesia is now joined by numerous other less invasive procedures for facial renewal, thus making the need stronger than ever for potential patients to find a doctor who is qualified in the latest technologies.
"Because we have come a long way in the last 10 to 20 years, there are numerous options for facial rejuvenation, many of which don't require the general anesthesia of a facelift," said Dr. Roy David, M.D., a facial plastic surgeon in La Jolla who has performed more than 1,000 facelifts. "Patients need to choose a plastic surgeon who is board certified, who specializes in the face and who can offer them multiple choices."
He notes the following procedures produce excellent results in facial rejuvenation:
• The Eight Point Liquid Facelift adds volume to hollow points of the face by injecting fillers and requires no surgery. Due to developments in recent years that allow doctors to define and pinpoint key areas of the face, the procedure now produces more dramatic results for those patients that don't need or want surgery, said David.
• The La Jolla Lift is a minimally invasive procedure done with gentle sedation that corrects the jowls along the jaw line and loose neck skin, also known as turkey neck. David said he developed the La Jolla Lift because he found most of his patients wanted to have those areas of their faces changed. He said it can produce results on par with any facelift that requires general anesthesia.
• Ultherapy involves an FDA-approved device that uses ultrasound to lift the skin on the neck, chin and brow. The in-office procedure, which stimulates new collagen growth, takes about an hour to perform and involves no down time for patients because it is non-invasive, said David. He said it is the only type of device on the market. David added that it does not produce as dramatic of results as other procedures, such as a La Jolla Lift. However, he said it can be combined with an Eight Point Liquid Facelift at the same time.
• Voluma is a relatively new, FDA-approved type of injectable filler for the mid-face and the cheekbone area that quickly lifts the cheeks, which indirectly lift up the smile lines and the jowl areas, said David. The results of the product lasts for two years and can be easily dissolved with an injectable enzyme if a patient doesn't like the outcome, he said.
David is double-board certified by the American Board of Facial Plastic and Reconstructive Surgery, and the American Board of Otolaryngology-Head and Neck Surgery, is a member of the American Academy of Facial Plastic and Reconstructive Surgery. He also specializes in plastic surgery exclusively of the face, nose, eyes, neck and scalp. He performs all of the procedures noted above.
"It's important to remember that patients don't necessarily need to go under the knife to look great," he said.
« Couples Plastic Surgery: His and Hers Facelifts with Dr. Roy David | Dr David Featured on Doctors TV Show! »
Categories: Uncategorized
Couples Plastic Surgery: His and Hers Facelifts with Dr. Roy David
By: admin February 12, 2014
Dr. David was recently featured on ABC News in a Valentine's Day special segment on Couples Plastic Surgery.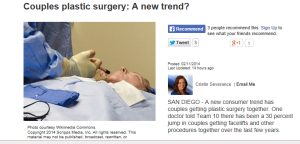 More and more couples are having cosmetic surgery hand in hand, especially facelift surgery, according to Dr. David. "In the past, the wife would usually come in and schedule surgery, the husband would remain in the background. Now men want to look better too, and the couples will book their procedures back to back so they can help each other recover," explains Dr. David.
Click here to to view entire article 
Dr. David feels the trend is because men are less inhibited about having surgery and couples in general want to look as good as they feel. David and Jackie, the couple in the story, feel their new looks complement their active lifestyles.
Both David and Jackie had the La Jolla Lift procedure with Dr. David, which rejuvenates the neck, jowls, and cheeks with twilight sedation. Jackie also chose to add on her eyelids and some fat transfer to the face. You can see their before and after photos in our facelift and La Jolla Lift galleries.
« Botox Injection in San Diego | Dr Roy David Featured in Union Tribune for Latest in Facial Rejuvenation »
Categories: Uncategorized