Look 10 Years Younger Without Surgery
By: RoyDavid December 28, 2015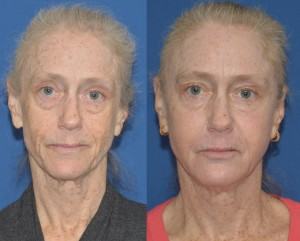 Medical knowledge about the facial area has advanced considerably over the past 10 to 20 years, and that has allowed facial plastic surgeons to administer rejuvenating procedures which do not necessarily involve surgery. Patients desiring a fuller and more youthful look to certain facial areas like the cheeks or lips, or patients wishing to have wrinkles and smile lines reduced, can now take advantage of these medical procedures which have been coined the "liquid facelift" because of the amazing results.
The rejuvenating power of facial fillers
Known as facial fillers, the substances used are injected at the site where enhancement is needed, and depending on the kind of treatment used, can have effects which last a years,  or they can even be lasting. Some of the most commonly used treatments are Voluma, Artefill, Radiesse, Sculptra, Juvederm, and Restylane, all of which are compatible with natural body functions.
As people age, subcutaneous fat is lost under the skin layers of the face, causing it to appear more shallow, and making the facial muscles more evident. This is why crow's feet and wrinkles become more pronounced, and since they are closer to the skin surface, they appear to become deeper as more sub-surface fat dissolves. Facial fillers serve to replace this lost fat, and restore the volume which prevailed during earlier years.
Some plastic surgeons have made it part of their practice to become expert in the knowledge and application of the various facial fillers available, and now specialize in treating patients who desire enhanced facial volume without having to resort to surgery. The facial filler procedure generally only involves injections at the various sites on the face requiring restoration, and sometimes a local numbing agent to avoid any discomfort for the patient. Since this is a far less invasive process than plastic surgery, it often requires little or no downtime for the patient, and is administered on an outpatient basis.
« The Non-Surgical Facelift That Really Works | Why You Should Choose a Plastic Surgeon Who Understands Asian Rhinoplasty »
Categories: facial rejuvenation
The Non-Surgical Facelift That Really Works
By: RoyDavid December 08, 2015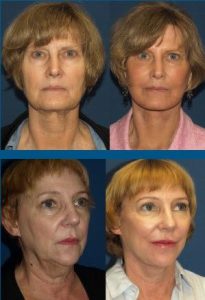 Fat grafting or fat transfer to the face has become one of the fastest growing segments of cosmetic procedures in America. Over the past decade the technique and technology has advanced so much that fat transfer to areas such as the lower eyelids and nose has achieved widespread acceptance. Fat grafting to the face can produce lasting, natural results. Dr. Roy David has been performing fat transfer in San Diego for over ten years, with consistently excellent outcomes.
WHY FAT TRANSFER?
As we age, we lose volume in the face. This leads to sagging, deflated skin, and concave sunken areas. Some common areas for fat loss include the cheeks, temples, lower eyelid "hollows," jawline, lips, smile lines and premaxilla. For years these areas have been treated with synthetic injectable fillers — and continue to be with great success. The problem with these fillers is that they are not lasting (with few exceptions) and must be repeated at intervals leading to occasional swelling and bruising. Furthermore, these facial fillers are not our own natural tissue; we believe that injecting one's own fat enhances the skin and facial contours by increasing blood supply and overall skin health.
Fat grafting is performed with blunt micro-cannulas. This makes the procedure very safe, as well as artistic and nuanced; the surgeon is able to "sculpt" the face in a natural way by gradually adding volume in diffuse increments. This is a different approach from most synthetic fillers — which are often placed in discrete aliquots.
Fat transfer in our San Diego practice is generally performed with a gentle "twilight" anesthesia in our AAAHC accredited surgical suite. Patients may also choose local anesthesia with oral sedation for this minimally invasive procedure. Following administration of tumescent anesthesia to the fat harvest site, the fat is gently harvested using micro cannulas. The fat is processed to remove impurities, and then carefully injected into the areas of concern. There is minimal to no pain after fat grafting, and a majority of swelling resolves within one week, allowing a return to activities.
San Diego facial plastic surgeon Dr. Roy David is a member of the American Academy of Facial Plastic and Reconstructive Surgery, and specializes in plastic surgery exclusively of the Face, Nose, Eyes, Neck, and Scalp. He has been in practice in San Diego for over ten years, helping thousands of patients to achieve their goals.
« FACIAL FAT TRANSFER Standing the Test of Time It's Not a Fad | Look 10 Years Younger Without Surgery »
Categories: fat transfer