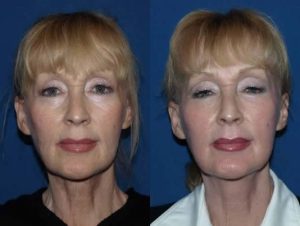 The liquid eye lift is a procedure to rejuvenate and refresh the lower (and upper) eyelid areas. An injectable filler is used to smoothen out indentations, hollow areas, and crinkly skin around the eyes. The most commonly used injectable filler is Restylane. Our doctor injects restylane after first numbing the overlying skin with a topical anesthetic. Patients report that the liquid eyelift is more comfortable than injecting fillers in the smile lines. The upper and lower eyelids are considered separate areas and separate procedures; not all patients need or desire both areas, however they may be done at the same time.
*Before and after photos and testimonials on this website are from actual patients who have given permission to have their photos/testimonials published. These photos and testimonials are for illustrative purposes only and no prediction of outcome is implied. Individual results may vary.
*Besides restylane, our board certified facial plastic surgeon and medical director Dr. Roy David will often use autologous fat to rejuvenate the lower eyelids and upper eyeld regions. Unlike restylane, which takes a matter of minutes to inject, fat transfer is more time consuming and expensive; however, the results will be permanent.
*While restylane is not a permanent solution to the aging eyelid- we have found that hyaluronic acid (restylane/juvederm) injected around the eyelids can often last longer than one year- sometimes up to two or more. We feel that this is a fantastic result from a very safe, reversible filler.
The liquid eyelift is not a commonly performed spa procedure because it requires an artistic eye, and understanding of eyelid anatomy, and experience to achieve a great result. Dr. David has many years experience performing complex fat grafting and injectable fillers in these regions.