Mini Facelift
Mini Facelift San Diego: The La Jolla Lift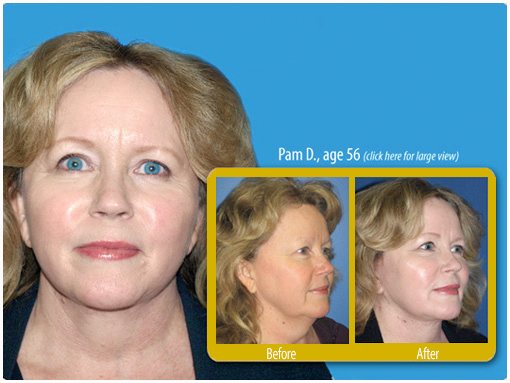 visit our entire mini facelift photo gallery
Historically, a mini facelift has been a procedure for younger patients, patients who have already had a facelift, or patients only looking to target specific minor areas of the face. Dr. David's version of the mini facelift has evolved into the La Jolla Lift®.  This is  a procedure that comprehensively rejuvenates the lower face and neck, broadening options for a wider range of clients.  Patients achieve dramatic improvement of jowls and "turkey necks" exactly as they would from a full facelift at our practice. Best of all-no general anesthesia is required, making this a safer procedure for most patients.  Dr. David's approach has received national acclaim, being featured on hit TV show The Doctors, as well as multiple San Diego television  stations.
Our Mini Facelift procedure does not rely on threads or  single sutures. The deeper SMAS tissue of the face is lifted and repositioned, providing a safe and natural rejuvenation of the jaw line and neck.  The loose skin and muscle that cause bothersome "turkey necks" are tightened and smoothed, and extra fat is removed from the jowl region. This produces a reliable and long-lasting result. One of the  best things about the La Jolla Lift®  is that it does not require general anesthesia.  Our mini facelift is performed with gentle twilight sedation: patients generally sleep through the procedure with minimal to no discomfort.  Our expert staff carefully monitors our patients' comfort and safety according to the high standards of our AAAHC accredited center. The patient below had the La Jolla Lift® with Max FX Laser, performed with twilight sedation: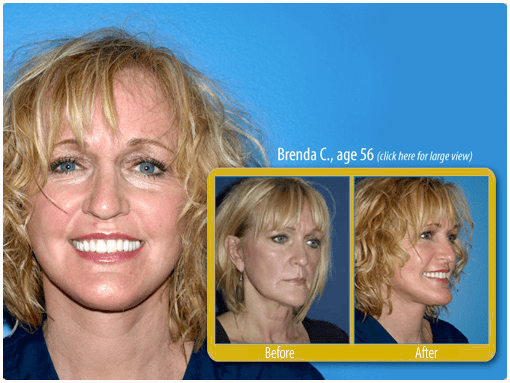 Incisions for the mini facelift are minimized and carefully hidden along the contours of the ear and hairline. Our natural approach preserves the hairline, avoiding an "operated" look that may  sometimes accompany  full facelifts done elsewhere.  Each patient is unique, and procedure time may vary accordingly, but the average procedure is completed in under 2 hours.  A quick procedure time while avoiding general anesthesia are the factors that make this procedure affordable: The La Jolla Lift® mini facelift is approximately half the cost of a full facelift at our practice. *   Besides results, safety, and affordability, our clients are also concerned about recovery time. By eliminating the need for general anesthesia and limiting incisions to below the hairline, the La Jolla Lift® allows for a relatively quick recovery. Nearly all sutures are removed by one week, and most patients resume normal activities by this time.  By ten days to two weeks nearly all patients resume work and travel. **   Please visit our mini facelift gallery to see  the results of our La Jolla Lift® :  Dr. David has helped over one thousand patients  from all over Southern California to achieve their facial aesthetic goals with  a mini facelift.
Couples Plastic Surgery
The La Jolla Lift is an ideal rejuvenation procedure for couples who are seeking to enhance their appearance and look as young as they feel. Our convenient scheduling allows couples to stage their procedures from one day to two weeks apart. One of our fantastic couples was recently featured on ABC news.
Q: Why should I choose a La Jolla Lift over a __?__Lift or a Quick lift?
A:  IT'S ALL ABOUT THE DOCTOR.  Facelifts are surgical procedures. They cannot be branded like automobiles and produced at equal quality by hundreds of different doctors.  The La Jolla Lift is an advanced, deep-plane lift targeting the lower face, performed with gentle sedation, in a AAAHC accredited suite. Equally important, it was developed and is performed exclusively by Dr. Roy David, a double board certified La Jolla Facial Plastic Surgeon who has performed over 1000 facelifts.   "Trust your face to a specialist."
Call Now to reserve your consultation..we look forward to meeting you!
(858) 658-0595
Questions? Click here to email us.
*When compared with cost of full facelift including forehead, under deep or general anesthesia. **Recovery times may vary and cannot be guaranteed.
For a mini facelift in San Diego or La Jolla California contact our clinic today at 858.658.0595.